1961 Land Rover 109 Series IIa Station Wagon
(prepared for full expedition use)
This truck was fully restored and prepared for an expedition to South America. The client wanted a vehicle suitable for "epic journeys". Custom options include a full roll cage, 2 ft. x 2ft. sun roof "hatch," extra fuel tanks, center locking console, custom seats and interior, extra gauges, locking differentials, dual ignition systems, winch, oil cooler, driving lights and more.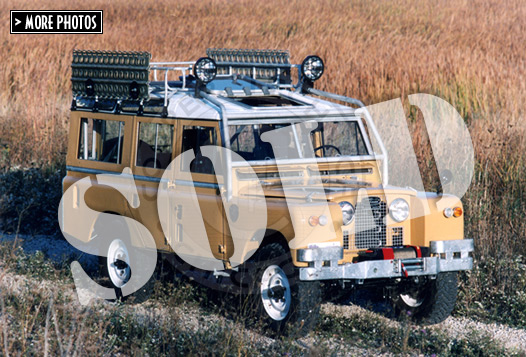 What if Land Rover had held a Camel Trophy Competition in 1961?
Beginning in 1981, Land Rover made special Camel Trophy vehicles to showcase their capabilities under extreme conditions. The Camel Trophy competition covered the globe, from Borneo to the Congo, from Sumatra to the rugged terrain along the Amazon.
Cooper Technica's challenge was to restore a vintage Land Rover, incorporating the Camel Trophy technology developed for expeditions, while retaining the character and elegant simplicity of an older Series model—the truck that made Land Rover's reputation.
The result is a classic Land Rover that is robust, technically sound and primed for action:
Extremely Rugged Construction
Sufficient Comfort for Long Journeys
Able to Handle Rough Terrain
Ease of Repair in the Field
In other words, a vehicle like no other, ready for epic journeys.
This Land Rover has an unusual history. A close friend and neighbor of President Dwight Eisenhower bought this truck new in 1961. After leaving office, Ike and his friend spent many hours traversing the hills of Gettysburg, Pennsylvania, in this Land Rover. Cooper Technica acquired this Land Rover for our client after it was sold in the estate sale.
Specifications:
Drivetrain & mechanicals:
Dual alternative ignition systems, electronic (capacitive discharge) and redundant mechanical points type for back-up
Three fuel tanks (1 rear and 2 front tanks, all with outside fill access; approx. 44 gallons capacity)
Custom ball valve to switch between all three tanks
Fully restored 2.25l Land Rover engine, 8.1 compression
Fully synchronized SIII four speed transmission with IIa clutch mechanism
Fairey overdrive unit, mechanical, works in all gears
ARB air locking differentials front and rear with built-in air compressor
B.F. Goodrich mud terrain T/A tires size 265/75R16 mounted on new 16" steel wheels
New front and rear axle assemblies and front and rear drive shafts
Warn freewheeling manual front hubs
New steering box, ball joints and steering damper
All mechanicals replaced or restored from the ground-up
Body & chassis:
Lewmar 2ft. X 2 ft. Hatch mounted in roof with extra roof bracing
Heavy duty Marsland fully galvanized chassis with extra internal bracing
Glasurit urethane enamel paint; underside protected with stone guard
All galvanized steel parts were hot-dipped re-galvanized
Deluxe early style bonnet (hood) and wings (fenders)
3/4 length galvanized roof rack, with full expended metal floor
Removable roof rack section for running with hatch open
Extra alpine window added in roof on right and left sides, in addition to standard alpine windows
Matched set of door locks and ignition switch
All new glass panels with all sliding window tracks replaced
All body panels replaced or restored from the ground-up
Interior:
Special "Recaro type" front seats made by König in Germany, manually controlled, with adjustments for lumbar, back angle, thigh support, etc.
Upholstery matched to König front seats on all door panels & rear bench seat
Center console, all steel security type
Secret storage compartment
For hot or cold climates:
20,000 btu heater, with integrated interior distribution duct
Heated front windshields and rear windows
Rear wiper unit
Engine block heater
Military oil cooler
Dual Hella interior fans
Brakes:
All new heavy duty vacuum assisted dual circuit brakes, siii 109 type
Stainless steel brake lines (will not corrode)
Electrical:
Custom electrical system with separate fusing and relays for each circuit
Full electrical documentation and diagram provided
Electrical disconnect switch
2-Hella Rallye 3000 driving lights
Military spec parking lights, brake lights, directional signals, and reverse lights, with screw-off lenses
Auxiliary switch panel for heated windows, air compressor, winch and locking differentials
Delco alternator 105 amp off-road model with internal bracing
Instrumentation:
Smiths 100 mph speedometer
Smiths vacuum gauge, oil pressure gauge and voltmeter
Separate Smiths fuel gauges for all three tanks
Jaeger combination gauge including oil temperature and water temperature
Safety & expedition equipment:
Full roll cage, galvanized, front section external, rear section internal, incorporating seat
Mounting directly to frame.
3 pt. seat belt/shoulder harnesses front and rear, inertia reel type, safety mounted to roll cage
Aluminum sand ladders, one pair on each side.
Superwinch husky 8500 lb. electric winch with integral galvanized bumper with roller fairlead and military overriders, and custom front apron
Mechanical hand throttle
1 set military ground anchors and pulley block
Everything completely restored or replaced from ground-up.
Home | About | Current Projects | Past Projects | Contact | Other Work | Bicycles | For Sale
© 2000 - 2022 Cooper Technica, Inc. - Chicago. All rights reserved.
Restoration of Vintage Automobiles
Privacy Policy